DIT Redux:
Since I went (legally) blind, I learned a lot about people in general. Perhaps I needed to. When people would ask me what this blindness entailed, I found a plethora of ways to describe it. I would tell them that everything looked blurry or obscured. I would say that I could see some things in general, but could not make out any details. One thing never said, is that it was humbling. I had to do something that I've never liked doing, and that is depend on other people. I couldn't draw my own insulin injections, take my own blood sugars, or even put in my bank card pin number at the pharmacy.
I'm not someone who ever asks for help, and I rarely disclose anything about my medical conditions on Facebook. Understandably so, there were a few people on my wall who thought I was joking when they saw my post on the morning of 12 May. I'm sure the first thing some people thought of was "how could he post on Facebook if he's blind?" The answer is, I wasn't completely blind, only legally so. It was a post that took me about ten minutes to write, and despite the meticulous care I took to avoid misspelling words, I still made a few typos. Seeing the mouse pointer was another issue entirely, as figuring our where the pointer was and how I can position it in the status message window was almost a chore.
I needed to put out a call for help, though. I can't afford to pay the bills if I can't see. The house won't pay for itself, after all. I was absolutely blown away by the generosity, and still can't find all the words to express how I feel about it all. Thanks to people like you, I made it this far.
What is Diabetic Retinopathy?
In my best Ric Romero impression, Diabetic Retinopathy is an eye disorder that affects people who are Diabetic. What happens is, rogue thin-walled blood vessels begin growing in the eye, Because those blood vessels are thin-walled, they eventually burst. To add injury to insult, the blood vessels tug at the retina as they grow. So, not only do you go legally blind in the eye when they pop, you also have a chance at going completely dark in the affected eyes. In my case, both eyes are affected.
What can be done to prevent it?
If you are diabetic, or you know someone who is, make damn certain that you or those people get eye exams every six months or so. Not the type of exams where they're testing you for glasses so much, but an actual medical exam. Also, be certain to keep a close eye on your diabetes health. Make sure you're sticking to your diet, and make sure you're taking the right medication or insulin.
What's the story behind all this?
Here's how it all went down. Sometime in the middle of October 2011, I begun having a weird little visioni problem. It wasn't too severe, or so I thought, but I would occassionally lose my mouse pointer. I told myself that it was just a part of getting older, and didn't think much of it. Fast forward to 2 February 2012. After an extremely stressful day at work, I get home and play a few games on my computer before crashing. When I wake up the next morning, it didn't occur to me that anything was wrong with my vision until I'm already on my way to work. I'm looking out the window on the commuter bus into downtown, and I think "wow... what a beautiful sunrise. Especially all that red. Say, why is my vision so damn blurry?" I went to work anyway (even more self-sacrifice for a thankless job, which is something I've always done for some reason) and made sure my work got finished.
The next day, I went to the Walmart eye clinic to see that doctor. I was initially told that medical exams were $60, to which I shrugged. If it's something serious, I need to know about it. So, the doctor takes one look at the eye and tells me he's not going to charge me for it because he can't do anything for it. He gives me a business card and tells me to "go see these people first thing Monday (6 February) morning."
After seeing the doctor that Monday (6 Feb), I took the next day off to visit the local DFCS office to try to get Medicaid. Despite the office later telling me that I was denied coverage on 16 Feb, I didn't find out until after I finally called them on 16 April. After that, it was absolute insanity trying to get them to give me a copy of the denial letter.
All the laser procedures we tried to get the blood vessel leaks under control failed to help, and eventually, an injection directly into the left eye was the only way to solve that. The right eye would become a bigger problem a month after the left eye received its injection. The stuff that is injected costs $2000 per dose, but I seem to have miraculously qualified for their "low income assistance" or whatever, so I didn't have to pay anything for it. Which is great, because I honestly couldn't afford to pay 10% of my income per injection. The right eye would later receive the same sort of injection.
The right eye was my worst fears realized. The blood vessel within it popped during work. Watching as blood dripped from a blood vessel you can't see, and watching as the blood filled up the eye and making things extremely difficult to see was perhaps the most horrifying thing I have ever experienced. It all happens internally, so it's not like I could wipe it away with tissues.
What did this whole process entail?
Well, first, I needed to have a physical so I could be cleared for surgery. After a bit of nonsense with one local doctor (tl;dr, the doctor who agreed to see me told me I couldn't be seen and wanted to schedule an appointment for eight days later), Chance drove me down to see the office he and his wife visit. It was here that I learned I have high blood pressure, which came as no surprise. I suspected this to be a reason why the laser procedures weren't working as well as they should have. After being cleared for surgery, though, it was a two week wait for my actual surgery date. The reason for this was the doctor I was seeing had a family medical emergency, and as a result, all surgeries scheduled for that day were rescheduled.
On the day of the surgery, I was probably the only person in the entire surgery center that was not too worried. I was genuinely happy to be there. My mother was worried, as was my ride to the surgery center, and even the doctor was a bit worried about it all before the procedure begun. The only worry I had was that I had a 1 in 3000 chance of losing the eye. The wait to be called back into the surgery area took longer than the actual procedure. One thing that was a little odd to hear, from my perspective, is that they weren't knocking me completely out. They gave me enough that it would completely zone me out, but they (for whatever reason) wanted me to at least remain aware of my surroundings. One side effect of this surgery is that I'm guaranteed a cataract in "one to three years."
The doctor went into the eye (presumably through the front door), took out the blood vessel, cut away the scar tissue that had built up under the retina, and put a gas bubble in place before sealing everything back up. I was instructed to spend my time "lookin down" at all times so the gas bubble could do its job. The point of the bubble was to put pressure on the retina and hold it in place, so that it could reattach where it's supposed to be.
At the post-surgery appointment, and again a week later, the doctors were more than pleased with the results, and told me everything seemed to be proceeding at a better than anticipated pace, and I was told I no longer had to keep my head down all the time, but that I should continue to sleep either face down, or at the very least, on my left side.
One thing I was asked for a few times was pictures. Specifically, before and after pictures. Apparently, there were a few people who thought this whole thing was a scam, and wasn't going to have any part of it. All I have to say to those individuals is that I sincerely hope you never have to endure what I've spent the better half of this year enduring. Losing your vision is mentally draining at the very least, and is downright scary at the heart of it all.
Before: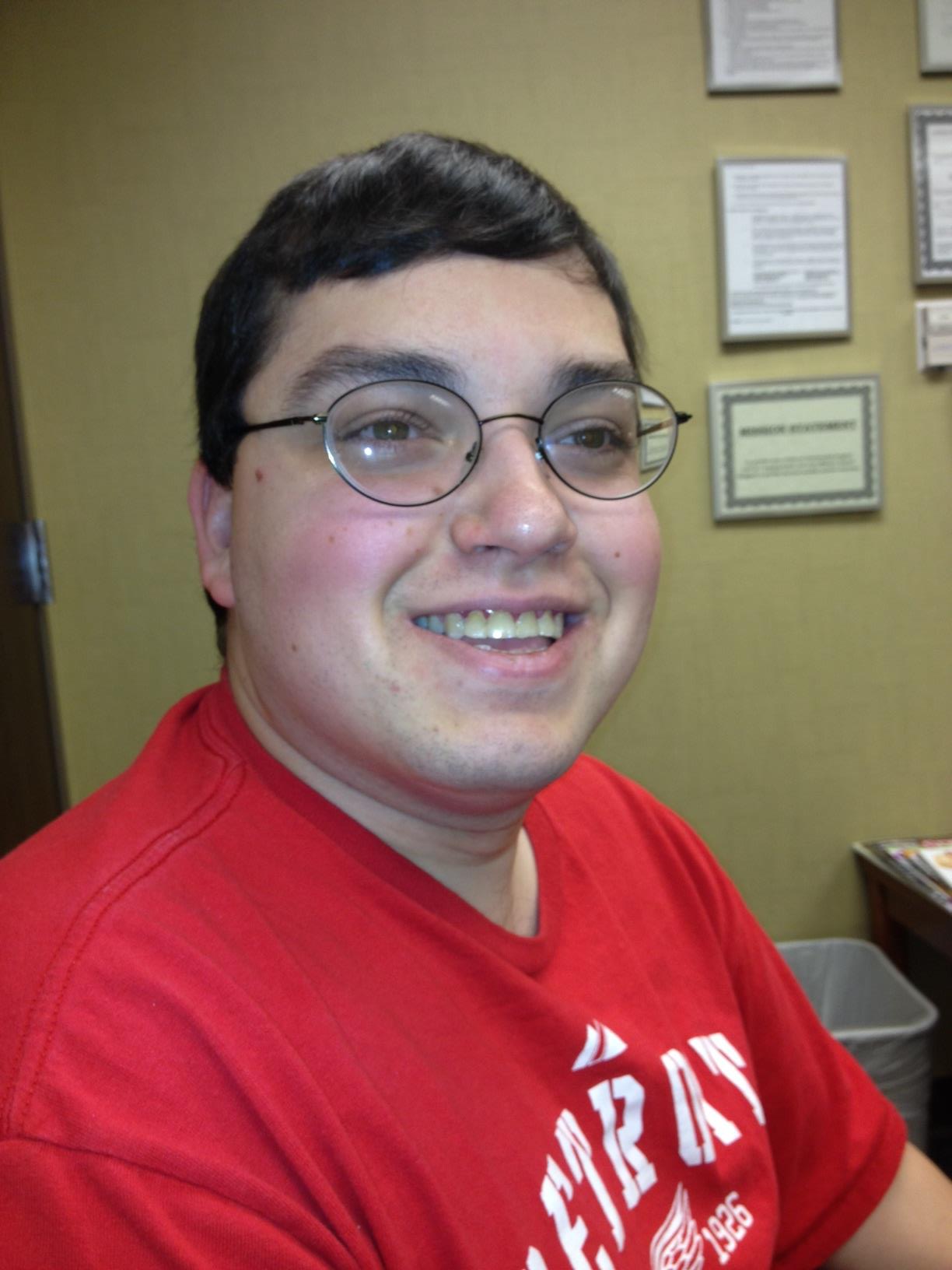 After: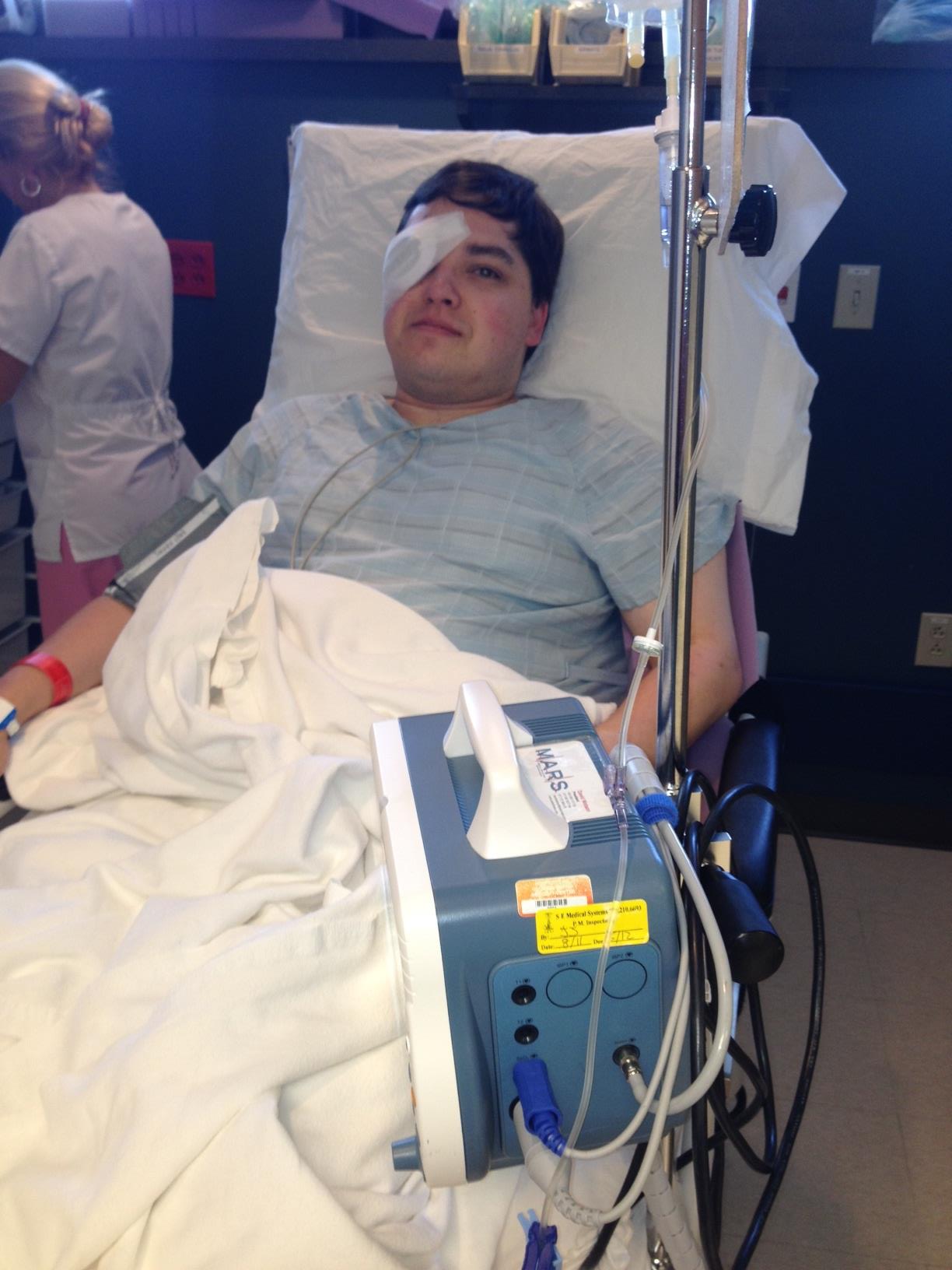 Not quite out of the woods yet
The doctor has asked that I report to his office on 9 July (which is exactly two months to the day since I last worked) so that he can take another look at it, and go over with me what the plans are for the left eye. Unfortunately, this means I'm still not working, and will need some more help to get through the next month or so. I'm not too certain about anything right now, especially since I'm not even sure I'll have a job to go back to once this is all said and done. I still need help, so if anyone can find some spare change to lend a hand, it would be truly appreciated and extremely helpful.
Once this is all water under the bridge, I'll find a way to repay the kindness of this community in full.
If you can help this time around, the paypal address is still the same.
s­a­veala­nsi­ght
ooh­ay
c­om
.